Calming Music For Kids
Calming music comes in many shapes and forms.
Calming music is an excellent way to help calm the mind and rest the body.
It is also one of those very rare things in life that can benefit people from zero years old to 111 years old, and everyone in between.
Previous posts within the pages of this blog have showcased some excellent jazz calming music and some beautiful classical calming music .
Now, to continue on the theme, I would like to provide some calming music for kids.
The following calming music audios and videos are in no particular order.
So, please have a listen, sit back, relax, and chill out.  Are any of these examples suitable for your children ?
Stress Free Kids.

Stress Free Kids provide some fantastic resources and beautifully calming music for kids.
They have some fantastic audios specifically designed for children and teens.  For example, here is a sample from their best selling CD and digital download "Indigo Dreams - Kids Relaxation Music".
The advertising is a little annoying and perhaps inappropriate on this Baby Sleep Music video.  When I played it I got a Jack Daniels advert - on a kids video !! - but that is not the fault of the composer.  If you can get past the advertising, the music is really quite calming and soothing.
This relaxing and calming music for children piece has got some beautiful flutes and electric piano.  Played quietly in a childs bedroom it would be very nice indeed for a smaller person.
Waves, pianos, some strings, flutes and the occaisional seagull make this quite a nice piece indeed.  Again, if played quietly in the background I am sure this calming music would help older students with their studies.
Music For Dreaming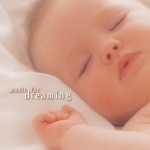 Music For Dreaming is possibly one of the best collections of calming music for kids ever recorded.  Featuring members of the Melbourne Symphony Orchestra, it is a collection of lullabies aimed largely at the baby and toddler market.  My daughters were sent blissfully to sleep with this beautiful music when they were very young. - your children will find this very calming indeed.
Brahms Lullaby - from Music For Dreaming 
Sandman - from Music For Dreaming 

OK - so technically this is more of a Guided Sleep Meditation, with music by Jeff Gold, who is one of our featured musicians, rather than "just" calming music on its own. However, it does fit the category nicely, the background piano and guitar add to the overall calming effect of the voice guiding a young tired child to sleep.
This track is a soft combination of piano with subtle string arrangements and is a a nice piece of music in its own right, irrespective of who it may be composed for or targeted towards.  Have a listen - feel the wave of relaxation wash over you and try not to think sleepy thoughts.
Do you have a favourite album, CD or composer whose music calms your kids ?
Please let us know in the comments below.
Please also share this post by clicking on the social sharing icons on the left of this page.
Don't forget to follow us on instagram - @calmingmusic.
Thanks,
Matthew